WHAT NOW?
Notes on the New Year.
2019 was a busy one for me. Launching CONAN THE BARBARIAN. Bringing seven-years' worth of Thor stories to a head with the WAR OF THE REALMS event. Helping launch a new VALKYRIE series out of that event. Then following that up with what was for me, as I wrote last newsletter, a rather emotional farewell in KING THOR. All the while putting out a bunch of AVENGERS issues. And also starting my first new creator-owned series in a while, SEA OF STARS.
But now it's 2020, and I'm done with THOR, and the last issue of "The Life and Death of Conan" ships next week. So what now? What's going to take their place in the new year?
For now, the answer is two-fold.
The first big part of that is "more AVENGERS."
It wasn't just 2019 that was busy. The last few years have felt like they've gotten progressively busier for me. Which of course is a rather good problem to have, and I sure ain't complaining. But it's been a long time since I've been able to sit down and focus on writing multiple issues of one project all in a row. Thankfully, that's exactly what I'm able to do right now with AVENGERS.
Ending my run on THOR felt like a major moment in my career, an important milestone in my time at Marvel. I want AVENGERS to be the next one. It will carry on some of the threads from my THOR run, in addition to weaving in ideas and characters that go back to even before that, as well as being the main source and breeding ground for everything new I want to do in the Marvel Universe.
You're seeing that unfold right now in the wild, space-adventuring, Silver-Surfer-stabbing, Brood-Thor-roaring "Starbrand Reborn" arc of AVENGERS, the most recent issue of which, #29 (featuring the star-spanning artistic talents of Ed McGuinness, Mark Morales and Paco Medina), came out last week. You'll see it even more in the next big arc I've been writing, which features a character I've voiced an interest in online a few times lately, one I've never really sunk my teeth into before but will be bringing to the book in what I hope will be a profoundly ass-kicking way. You'll see it in all the crazy plans to come, which I've already been seeding (look to KING THOR #4 for a bit of that), featuring the main, iconic Avengers you know and love and a few other folks you probably wouldn't expect to see assembling alongside them. Plus a lot more of Blade stabbing things.
In other words, I'm incredibly excited about all things AVENGERS in 2020.
I'll also continue to be involved with co-writing VALKYRIE: JANE FOSTER alongside new writer Torunn Grønbekk (more on her in a bit). And speaking of Jane, be sure to pick up the first trade of VALKYRIE, out this week, and then go tell writer Al Ewing how much you liked it, because it was mostly all him.
Are there other major projects I want to tackle at Marvel? Yes. Lots. And you'll probably see the genesis of those as the year goes on. But for now, I'm all in on AVENGERS.
But I said my answer to "What now?" was two-fold, didn't I? So what's the other part of what I'll be working on in 2020?
In short, MORE GODDAMNED CREATOR-OWNED.
I meant the "goddamned" part both figuratively and literally.
That's right, the long-awaited return of your favorite Biblically-gruesome crime series, THE GODDAMNED, is officially imminent. Look for the beginning of our second volume, "The Virgin Brides," in May. Thanks to the usual crew of artist r.m.Guéra, colorist Giulia Brusco and letterer/designer Jared Fletcher, it's fucking stunning, and will punch your soul right in the balls. Or your balls in their soul. Or maybe all of the above.
I know it's been a wait since the previous volume, but I think this incredible art speaks for itself. And as it stands right now, the entire volume will be done before the first issue ships, so there should be no delays. Below you'll see pages from each of the first four issues.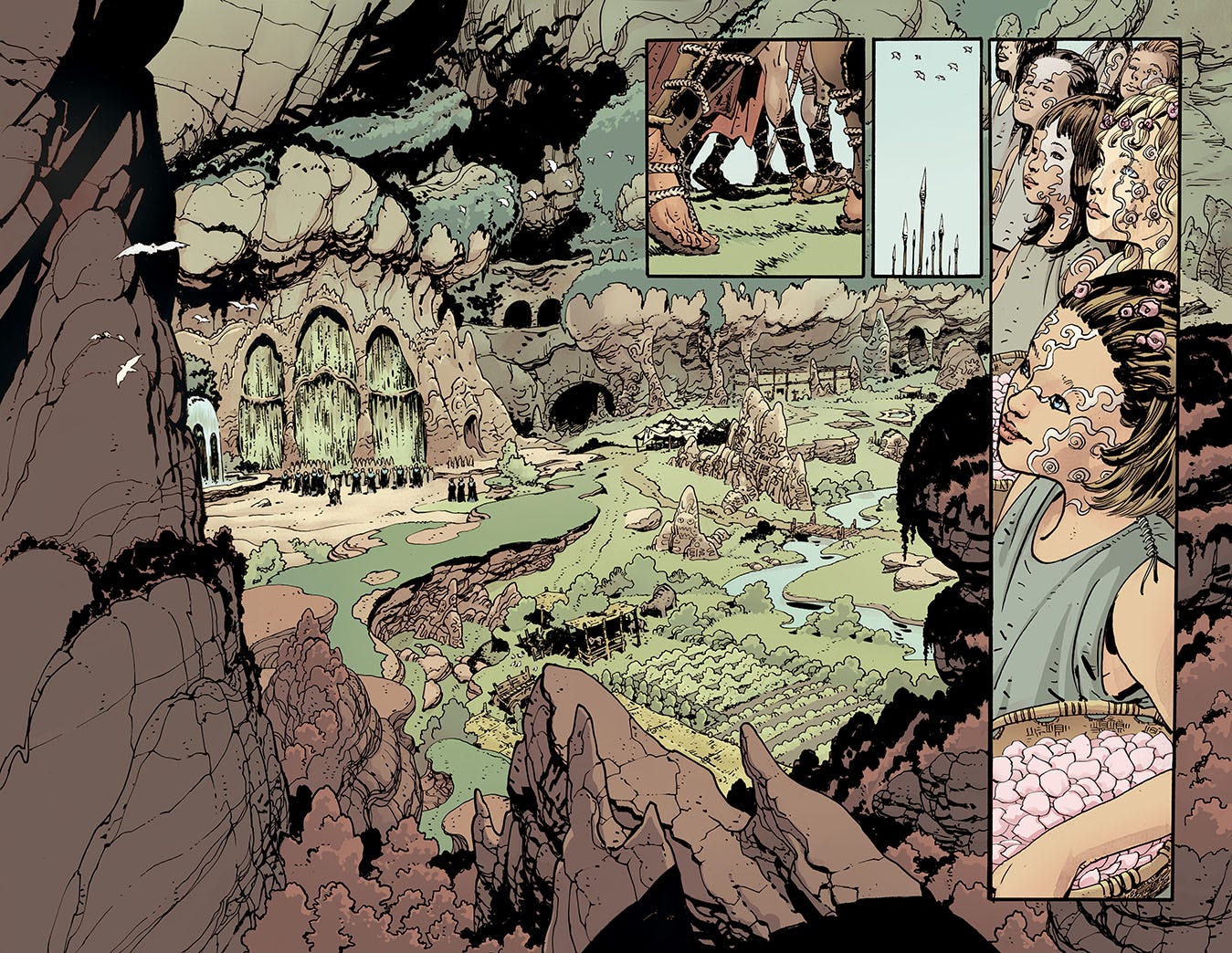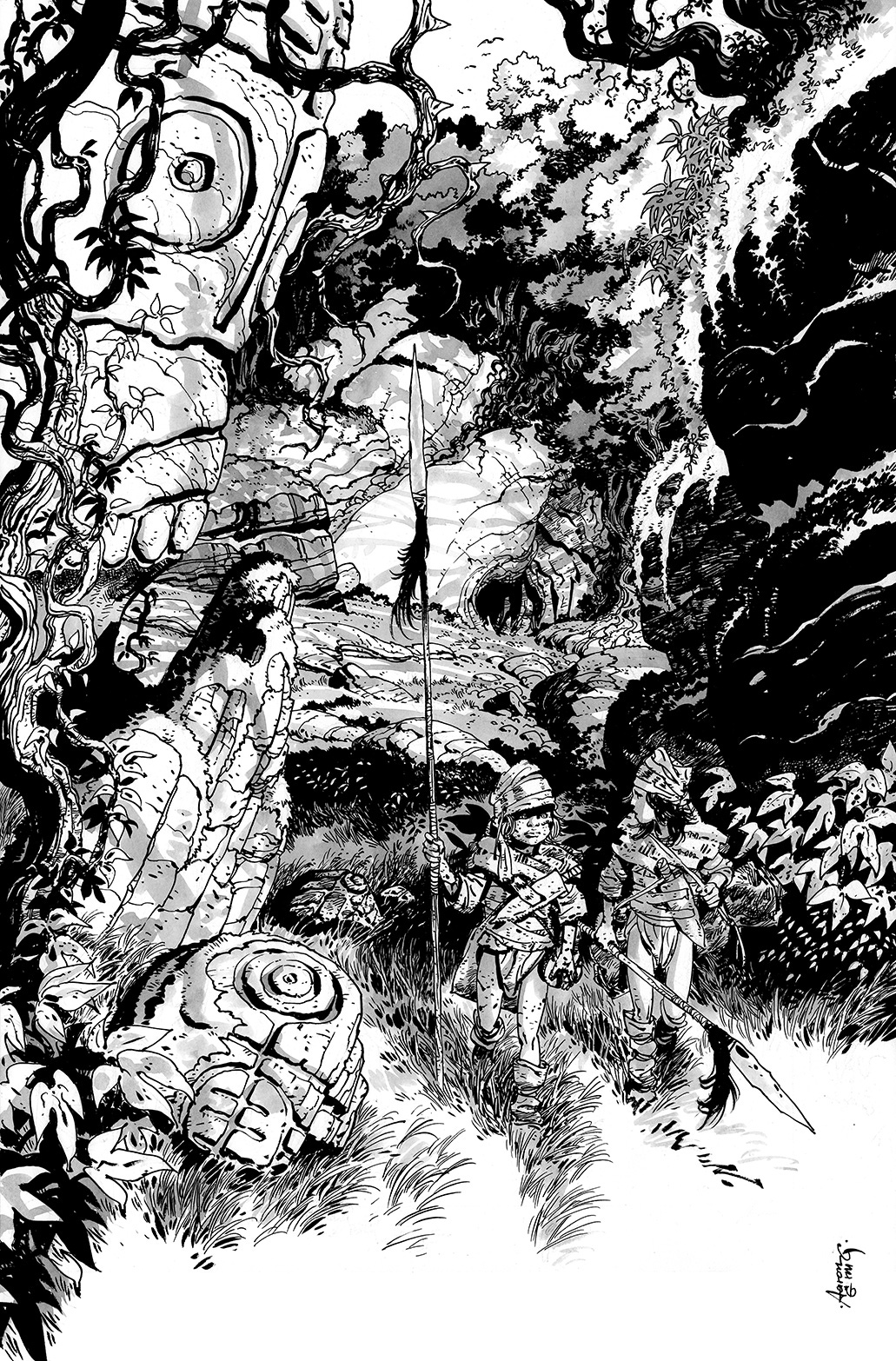 But it's not just THE GODDAMNED we'll be seeing more of in 2020. I'm committed to having a much bigger presence with creator-owned work this year than last. So once THE GODDAMNED returns, the second arc of SEA OF STARS won't be far behind. And then look for more SOUTHERN BASTARDS, along with word of another brand-new creator owned project. In addition to the previously-announced Sturgill Simpson inspired SOUND AND FURY graphic novel, it should make for an exciting year of original work.
Thanks as always for the support. Thank you for reading. I love this fucking job. I love what I'm getting to work on, the stories I'm getting to tell. I love it every single fucking day I get to climb the stairs to my office and stare at a blank page on the screen. The day that love goes away, I promise you, I will fuck right off to a job digging ditches or mixing tiki drinks or planning your family's trip to Disney World. But I'm pretty damn sure that day will never come. I plan on loving this job until my head and heart both plum give out.
Here you see that love in action. My aforementioned Valkyrie co-writer Torunn Grønbekk came to Kansas City for a visit this past weekend and snapped some pics of me in my natural habitat, in between our trips to TikiCat, Joe's BBQ and the house where Jesse James died. Torunn is Norwegian and was hungry for some genuine American experiences, so upcoming Valkyrie storylines may or may not have been planned inside an Arby's somewhere in Missouri. Never let it be said I'm not a gifted tour guide of the true American experience.
Is it too late to toot my own horn about the best of the year and best of the decade lists that mentioned my books? Fuck it, I'm gonna toot a little anyway.
Best Writer in AiPT's Favorite Comics of 2019.
CONAN THE BARBARIAN in The Beat's Best Comics of 2019.
THOR in IGN'S Best Comic Book Series of 2019.
THE WAR OF THE REALMS in Comic Book Revolution's Top 10 Comic Books of 2019.
KING THOR as an "Honorable Mention" in SyFy Wire's 10 Best New Comic Books of 2019.
SEA OF STARS #1 in WhatCulture's 25 Best Comic Book Covers of 2019.
THE MIGHTY THOR at #3 in WhatCulture's 10 Best Comic Books of the Decade.
THOR in Polygon's Best Comics of the Decade.
THOR in The Oklahoman's Best Comic Book Series of the Decade.
SCALPED at #24 and THOR: GOD OF THUNDER at #10 on Den of Geek's 100 Best Comics of the Decade.
SOUTHERN BASTARDS and THOR in The Beat's 100 Best Comics of the Decade.
SOUTHERN BASTARDS and THOR in IGN'S Best Comics of the Decade.
WOLVERINE & THE X-MEN, SOUTHERN BASTARDS, SCALPED and THOR in CBR'S Top 100 Comics of the 2010s.
THOR: GOD OF THUNDER on Previews World's Memorable Comics of the Decade.
And holy shit, I also had the top-selling comic book of the decade, in the million-selling STAR WARS #1.
But for highlights of the year, for me, it's hard to beat this one: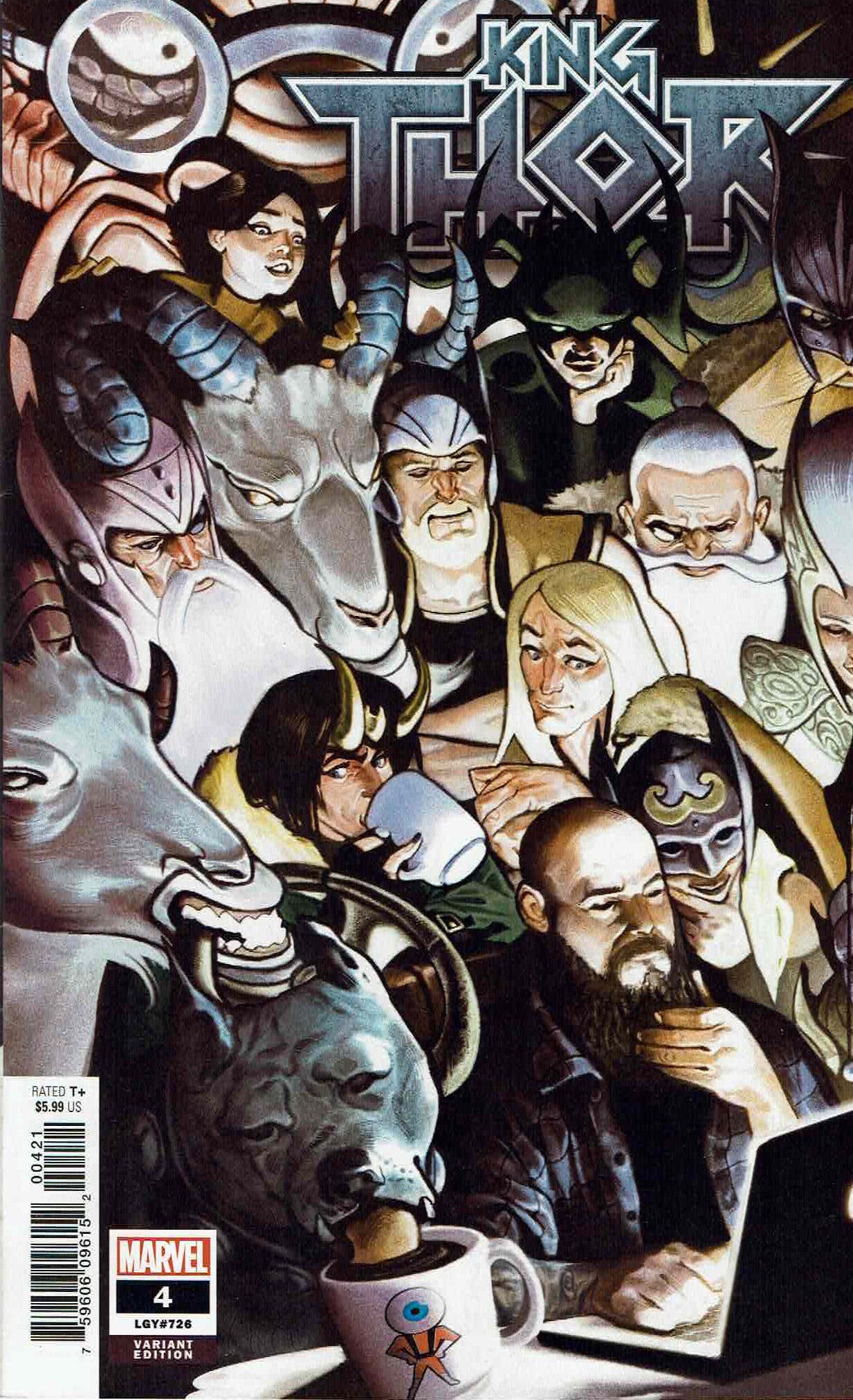 This variant cover for KING THOR #4 by the amazing Mike Del Mundo made me just a wee bit weepy. And now you can purchase your own signed copy, which may or may not include my actual tears, over at my online store.
This has been Beard Missives, direct from the weepy face of Jason Aaron.
This week's newsletter has been brought to you by holiday-themed pop-up bars, the music of Cord Lund, Tyler Childers and John Moreland, Sartori Reserve Merlot Bellavitano cheese, Elephant Sloe Gin, candles that smell like Disney World and a big sack of Norwegian candy.
Happy New(ish) Year.
Jason Aaron
KC, January 2020
---
UPCOMING APPEARANCES
March 20-22 — Planet Comicon Kansas City
April 10-12 — WonderCon Anaheim