Adieu, Asgard, Adieu
Notes on the end of a seven year THOR run
My last issue of THOR went to print this week.
KING THOR #4. By my count, the 101st issue of a run that started in 2012.
I wrote a farewell letter that'll be published at the end of that final story, a story I've had in my head for years now, waiting to be written. I won't rehash that letter here. I'll just say that writing it made me rather emotional. Looking back over those last seven years made me realize just how much Thor had come to mean to me, how the character had shaped my life and how much I'd enjoyed getting to shape theirs. I was a bit surprised by how hard I found it to let go. After all, before Thor, I'd written Wolverine in various series for about six years. And while it was definitely strange to wake up one day and realize you were no longer involved in that character's story, I didn't feel nearly as deeply affected by moving on from the Canucklehead as I have the last couple weeks.
I think because Thor was different. The moment in time was different. What it meant to my career was different. To my life. Because I was different.
Growing up, I never had much in the way of confidence. It just wasn't a part of my DNA. When it came to talking to people. Especially girls. When it came to being myself. To figuring out who I even wanted that to be. I always felt far more comfortable and confident when it came to writing.
I struggled to put my feelings into the sort of words that could come out of my mouth. To make real connections. To be vulnerable. But I could say any-fucking-thing when I was putting it on paper. There was an ease there on the page that I didn't feel in my flesh and blood. There was a power I could find in writing that felt utterly unreachable for me in the real world.
When I was 15 or 16, my girlfriend, the love of my young life, broke up with me. I channeled my angstiest of teenage angst and floweriest of imaginings and wrote a poem about her. What I felt at the time was my creative masterpiece. She read it, and we got back together. That was the first time writing changed my life in a tangible way. Sure, we still broke up again a couple years later, for good this time, but I would never stop chasing that feeling of life-changing power.
It took almost another 15 years before writing changed my life again. This time in a far more profound and long-lasting way.
In 2001, I won a Marvel Comics talent search contest. That was the beginning of my life as a professional writer. The only life I'd ever really wanted to lead.   
And right alongside that newfound career, I found love and a wife. I found fatherhood. I began to find myself. To find my own voice. In places other than on the page.
I was six years into my comics career when I got the chance to take over THOR. I'd been exclusive to Marvel for a few years. I'd written other ongoings. I'd been to the retreats. Looking back, I think it was the first time I was taking over a series with a feeling of true confidence. That I was just going to lay down whatever story tracks I wanted to and not worry about how it long it would take to see them through. That the book wouldn't be canceled out from under me. That I'd just stay on it until someone pried it away from me or until I felt that I was done.
And that's what I did. Thanks to Marvel and all the amazing artists I got to collaborate with, I was able to tell exactly the story I wanted to. And I think I'll always be proud of how it all turned out.
Unfortunately, I think it's gotten harder in comics to always write with that kind of confidence. Even though I look at my THOR run as one long story, it was told across four different ongoing series, four different minis and a few one shots. These days, series get rebooted on a regular basis, so it's hard to justify the same writer sticking around and putting down roots on a character. Which means it's hard to ever make your mark, to feel the sort of ownership and investment I think is necessary to tell a story that feels truly new and exciting, like something that people can't help but notice. That confidence is so important. Even if you fail. To fail with fucking vigor.
I've felt that confidence more in my own life too, though it's sometimes still a struggle. I remain a work in progress. Don't we all? If you're still looking for that confidence in your writing or in your daily life, I say the only way to find and refine your true voice is to put it the fuck out there. Believe you've got something to say. Believe that someone somewhere wants to hear it. Because if you can put your true feelings into words, feelings that genuinely resonate through every inch of your fucking being, then someone else out there will hear it and feel it too. I believe that with profound fucking certainty. My whole fucking life is proof of that power, that connection.
And that's what it's all the fuck about. That connection from across the page. That's the goddamn thunder. And while I may be done with Thor, I'm definitely not done chasing that connection, that confidence. If the gods of Asgard are truly on my side, I'll never be done.
So thank you, Thor. Here's to seven fun years we spent together. And even though we're both moving on now (Donny Cates will treat you right, I know he will), something tells me you'll still be getting a mention in my obituary someday, many years from now. "Jason Aaron, former writer of THOR, died today, while eating a Dole Whip, moments after riding Splash Mountain. His beard looked amazing. His ashes will be spread across Bryant-Denny-Saban stadium this weekend before the latest installment of the Iron Bowl, which Alabama is expected to win by 35 points."
So what now? What new Marvel book will I be taking on now that I'm done with THOR? Maybe I'll talk more about that next time. For now, I'm gonna keep feeling the feelings of saying goodbye a little bit longer.
But we can talk about the books I already had come out this past week.
AVENGERS #26 is your typical gay caveman cosmic love story, drawn by the legendary Dale Keown. I've loved doing all the different Prehistoric Avengers spotlight issues, but this one was probably the most fun I've had so far. It's the origin of the Prehistoric Starbrand. There's also a badass dinosaur. And I mentioned Dale fucking Keown, right?
CONAN #11 is the penultimate chapter of my "Life and Death of Conan" story. Is penultimate too pretentious a word? Should I just say next to last? Would that sound better? It's the next to fucking last part of my big Conan story. And it's completely different from any of the other previous chapters. It's about the whole "death" part of the "Life and Death of Conan." Particularly, it's about what happens when Conan comes face to face with his god, Crom. Suffice to say, they won't be holding hands and singing "Kumbaya." Or maybe they will. Maybe that's the swerve you never saw coming. Guess you'll have to buy it to find out.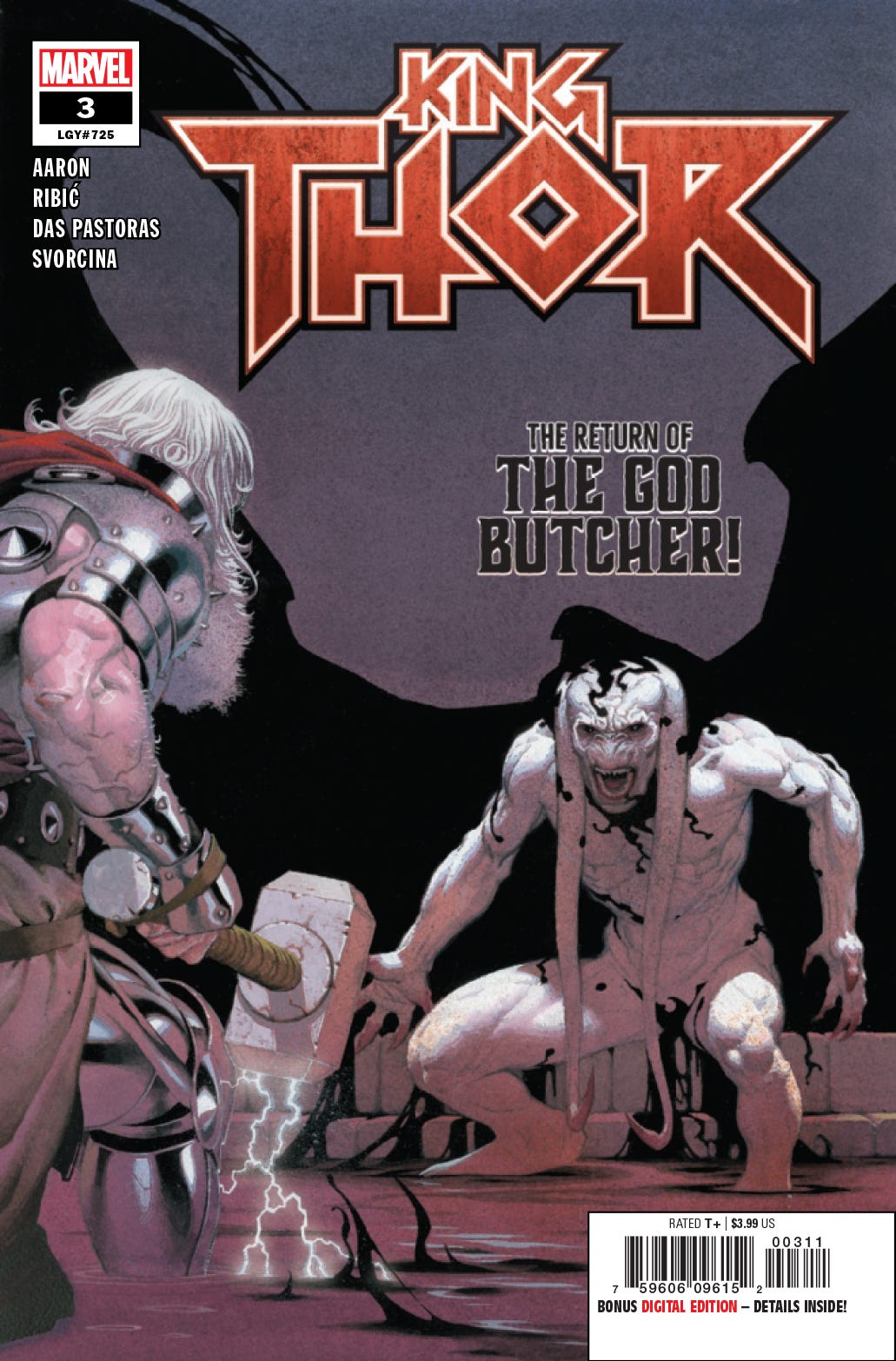 Hey, another penultimate issue! It's a a month of penultimates for me. I've already droned on a lot about THOR, but I'll just say that this issue of KING THOR fulfills a story promise I made all the way back during my first arc of THOR GOD OF THUNDER. At the end of that original "Godbomb" story, Thor returns to an alien world that had lost its gods and brings them some new ones. We only see those gods in silhouette. But I had always intended to go back and fully introduce them. And have Esad Ribic design them. And then we'd have some gods to play with. But I never got to it. The story moved on to other things, and then Esad moved on too, and those new gods stayed as just some scratched out ideas and a bunch of names in my notebook for seven long years. Until now. So pick up KING THOR #3 if you wanna meet the long-awaited gods of Indigarr. Like the God of Thorns and the Goddess of Gristle and the Prince of Soot. Oh and there's Gorr the God Butcher too.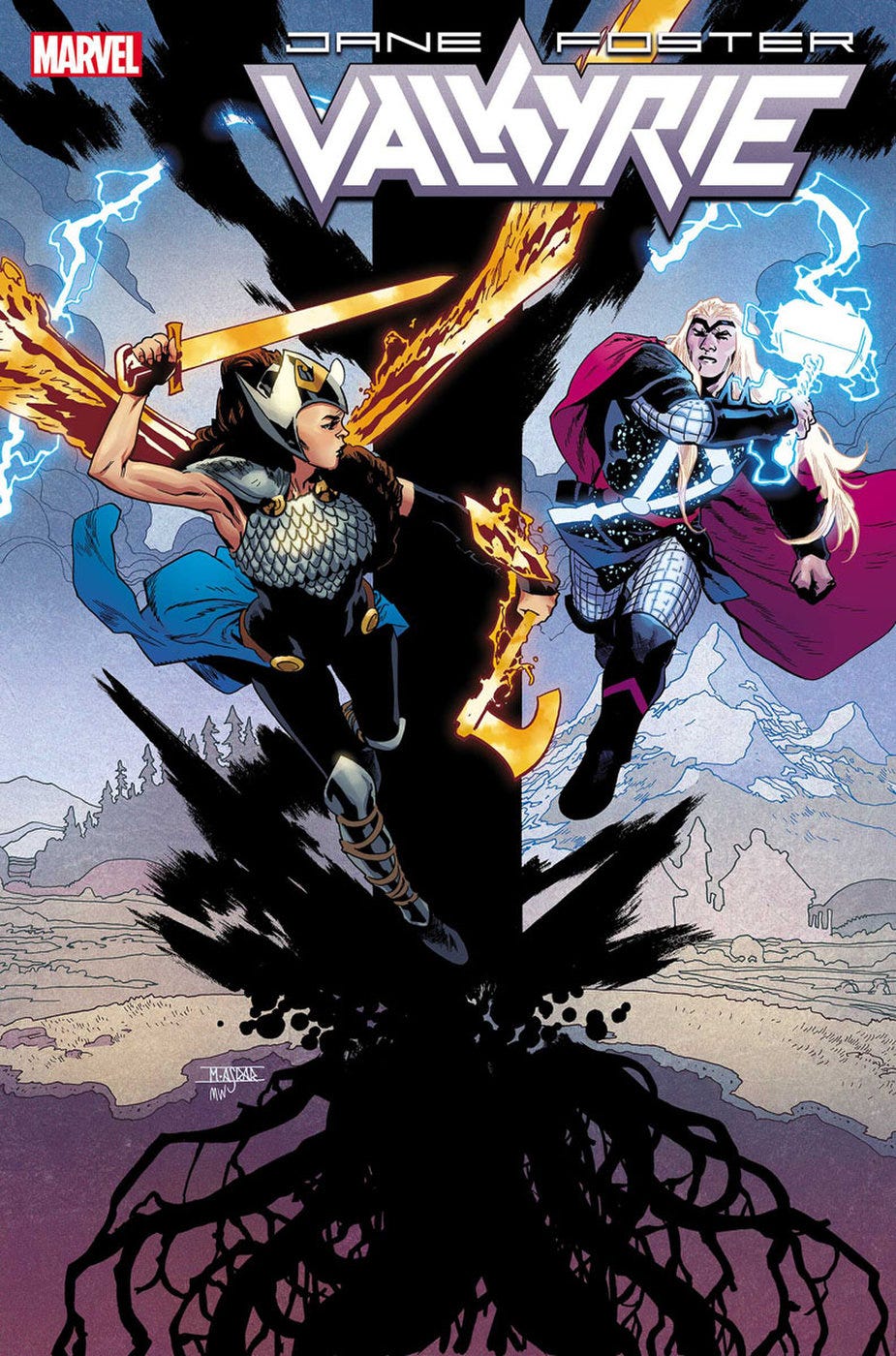 The other Marvel book I'm currently working on didn't come out this past week, but there was an announcement about its future. Torunn Grønbekk is joining me as co-writer on VALKYRIE: JANE FOSTER starting with issue #8 in February. Al Ewing has been doing the vast majority of the work and making the book a blast every issue, so if you've been enjoying it so far, please thank Al. But now Torunn and I have come up with a big weird Asgardian story together that I think people will really dig. If you don't know Torunn's work, you're in for a wicked treat. It feels like no exageration to say that she was born for this, as she's Norwegian and her name literally means "to love Thor." So guess who happens to show up in issue #8? Yeah, it's the first official team-up between Thor and Jane since she became Valkyrie. See, I told you I struggled to let go. There's more info here, including some quotes from Torunn.
As always, hit up the online store over at my website to pick up signed copies of any of my creator-owned works and lots of my Marvel stuff too. I also recently unearthed an old box of Boss BBQ shirts in the basement, so get those while they last.
And since you've been so good by reading all the way to the end this week, I'll reward you with a recent pic of my beard, as taken by the amazing photographer and one of my favorite people, Casey McCauley.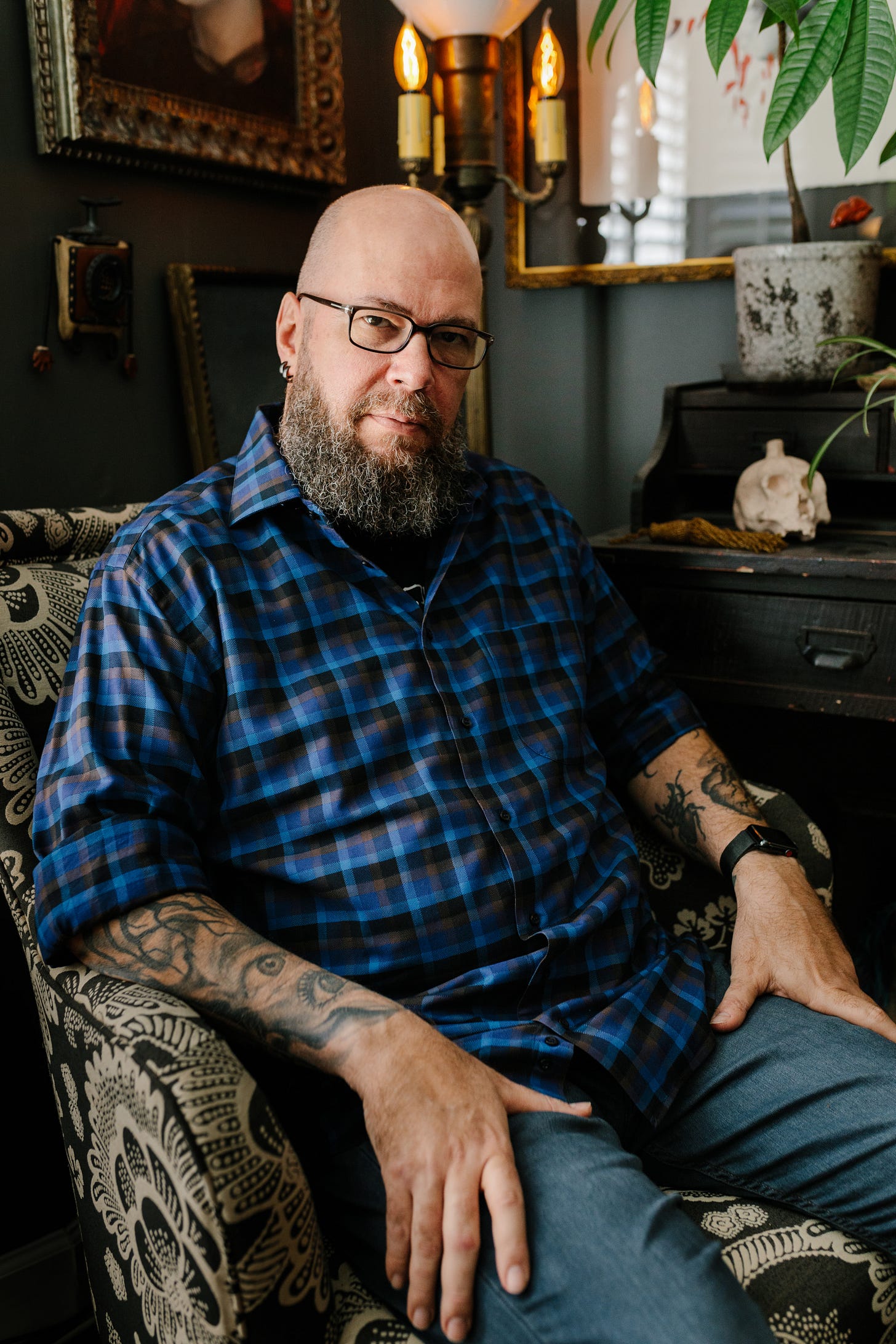 This has been Beard Missives, direct from the face of Jason Aaron.
This week's newsletter has been brought to you by Twizzlers bites, Airheads stripes, Five Farms Irish Cream Liqueur, margaritas with tajin on the rim and "The Imagineering Story" on Disney +.
Cheers.
Jason Aaron
KC, November 2019