Newsletter #1: HELLO FROM MY FACE
Notes on NYCC 2019
Hi!
So I guess because I don't already have enough writing deadlines in my life, I have decided to go and make more of them for myself.
Also lately I've found myself in dire need of an ever-increasing variety of platforms from which to publicly defame Jonathan Hickman.
Thus… welcome to Beard Missives! The newsletter for all things Jason Aaron. And anti-Hickman, I guess.
In this week's big news, I was just at New York Comic Con where I announced a new comic project with Z2 Comics and one of my favorite modern country music artists, Sturgill Simpson. The book will be inspired by Sturgill's kick-motherfuckin'-ass new album, SOUND AND FURY, and the wickedly-cool anime he had made to accompany it. I wrote a bit about all this on my blog the other day, so feel free to check that out at your leisure. And maybe leave a comment listing all the many reasons you too despise Jonathan Hickman. You know, just to cheer me up if I'm feeling down.
It was a bit of a last-minute, whirlwind trip, just to announce the book and meet with Sturgill and the crew behind the anime. I was barely at the con and only briefly got to say hi to tons of people I know. I love doing conventions. If I ever turn into that guy who grumbles about doing conventions, feel free to punch me hard in the chest. Moderately hard. Maybe more like a firm but gentle pat. I love cons, even though I haven't been doing as many lately (I've been too busy, but I'll be looking to make more time for appearances in 2020. So if there's a con around, maybe I'll be coming to your town soon! Just so you know, in case you wanna go buy a new shirt or something). I love getting out of the office, traveling and meetings fans, seeing the real effects these ridiculous books we do have on the world and the other people who love them. And I love getting together with my fellow creators, with amazing artists I've worked with from all over the world, with other writers, some of whom I even genuinely like. We talk, we drink, we laugh, we try to get editors to buy us dinner.
Some of the brief but memorable highlights from the late-night gangbangery of the 2019 NYCC bar scene:
—The first night I was there, Garth Ennis shamed me for drinking wine, so I switched to Guinness for the rest of the weekend. Because Garth Ennis fucking terrifies me, of course. I mean, he's probably the sweetest Irishman I've ever met, don't get me wrong. But you've read Preacher. I read the fuck out of Preacher. I always feel intimidated around Garth, every single time I get to hang out with him. I feel like some kinda fraud around that dude. Like he's a… a proper writer. And I'm a guy who has made-up people in their underwear slap-fight each other. First time I ever exchanged emails with Garth was when he very graciously wrote an introduction for one of the first SCALPED trades. Not long after that, I was part of a big email that I guess he sent out to everyone in his contact list, showing photos from that year's Garth Ennis family summer vacation. They were photos from inside a shark cage, of a great white shark. See? Proper writer. So yeah, I drank too much Guinness. Enough to go home and shit a loaf of bread. (Stole that from BKV. Because fuck him, he intimidates me too.)
—I was excited to see Donny Cates finally announced as the new writer on THOR. Since I was in town, I really wanted to show up at his panel and literally pass the torch by handing him a Mjolnir, but unfortunately the timing didn't work out. Just know I'm super-excited he's the guy who's taking over, because Donny's been killing it these last few years with some of the biggest, boldest ideas in comics and a fervent passion for everything he does. And believe me, his THOR is gonna be no different. So I feel like I'm leaving Asgard in some very capable hands. Even if he is from Texas. (Oh Odin-damned Hel, what have I done?)
—There was a wake held for Vertigo Comics at a bar in midtown. It felt a little like a high school reunion, seeing so many faces from the past, so many folks who were such a big part of my first days in comics. I owe so very much to Karen Berger for what she built. Vertigo sustained me through the darkest times as a fan and gave me my biggest break and greatest education as a creator. And I forever owe my editor Will Dennis for taking a chance on me and pulling me off the Vertigo slush pile and being so profoundly instrumental in the development of SCALPED, the series that would give me a career in this biz. I most definitely would not be wherever it is that I am without Karen and Will and Vertigo. And even though the Vertigo name has flown off into the ether now, you could look around that bar that night and see Vertigo's legacy, see the diverse array of exciting and innovative comics being done across every company in the business that are in essence the children and grandchildren of Vertigo. It was a room packed shoulder to shoulder with writers and artists and editors who will always be Vertigo alumni, no matter where they go and what they do. And I'm very proud to forever call myself among them.
—Quick shout-outs. Z2 editor Sridhar Reddy is a thoroughly solid dude. Boom Studios executive editor Sierra Hahn is a thoroughly solid lady. Jock is still the most solid fucking human of all the humans. Norwegian comic writer and painter Torunn Grønbekk is a profoundly delightful person and a creator to watch.
Am I doing this right? Is this too much? Are all newsletters this long? My therapist said I needed to journal more, so…
But I haven't even gotten to how crazy a year it's been for me work-wise, what with the realms warring and whatnot. Or how 2020 is shaping up now that I'm coming off THOR after seven years. Or when you can expect to see more of THE GODDAMNED and SOUTHERN BASTARDS (early next year for GD, still working on SB). Or what about the new idea I came up with on the plane ride home that I wanna write as a graphic novel?
I guess all that stuff will just have to wait. But before we go, let's talk about what I've got coming out right damn now.
Issue #4 of SEA OF STARS came out last week, and the second printing of issue #2 is in stores this week, in case you missed it the first time around. Or even if you didn't, I guess. Hell, I don't wanna tell you how to live your life. The response to SEA OF STARS has been really gratifying, especially since it's so unlike anything else I've ever done. When issue #5 comes out in a few weeks and wraps up our first arc, I'll talk more about how Dennis Hallum and I conceived and co-write this series, because I think that's one of the things that makes it so unique and interesting.
And speaking of SEA OF STARS, you can head over to the newly expanded shop at my website to pick up a sweet new enamel pin of Kadyn, the book's main character, as designed by series artists Stephen Green and Rico Renzi. Hell, I'll even throw in a free signed comic or two with each order. Because fuck Jonathan Hickman, that's why.
And speaking of fucking Jonathan Hickman, I recently did some press for SPIDER-MAN: FULL CIRCLE, a round-robin style story where seven writers took turns trying to make life completely miserable for the writer who followed them. I took the baton from someone named Chip Zdarsky (sp?) and hate-wrote my ten pages, thinking Hickman would be the next writer up. In short: he is a coward. You can see the deranged results for yourself on October 23.
This has been Beard Missives, direct from the face of Jason Aaron.
This week's newsletter has been brought to you by Brach's football shaped candy corn, Krispy Kreme Halloween donuts, Witchbaby bath bombs, All Elite Wrestling, Genndy Tartakovsky's Primal, the new Avett Brothers album, seething hatred of you-know-who and Guinness. So much Guinness.
Also I own this hat now.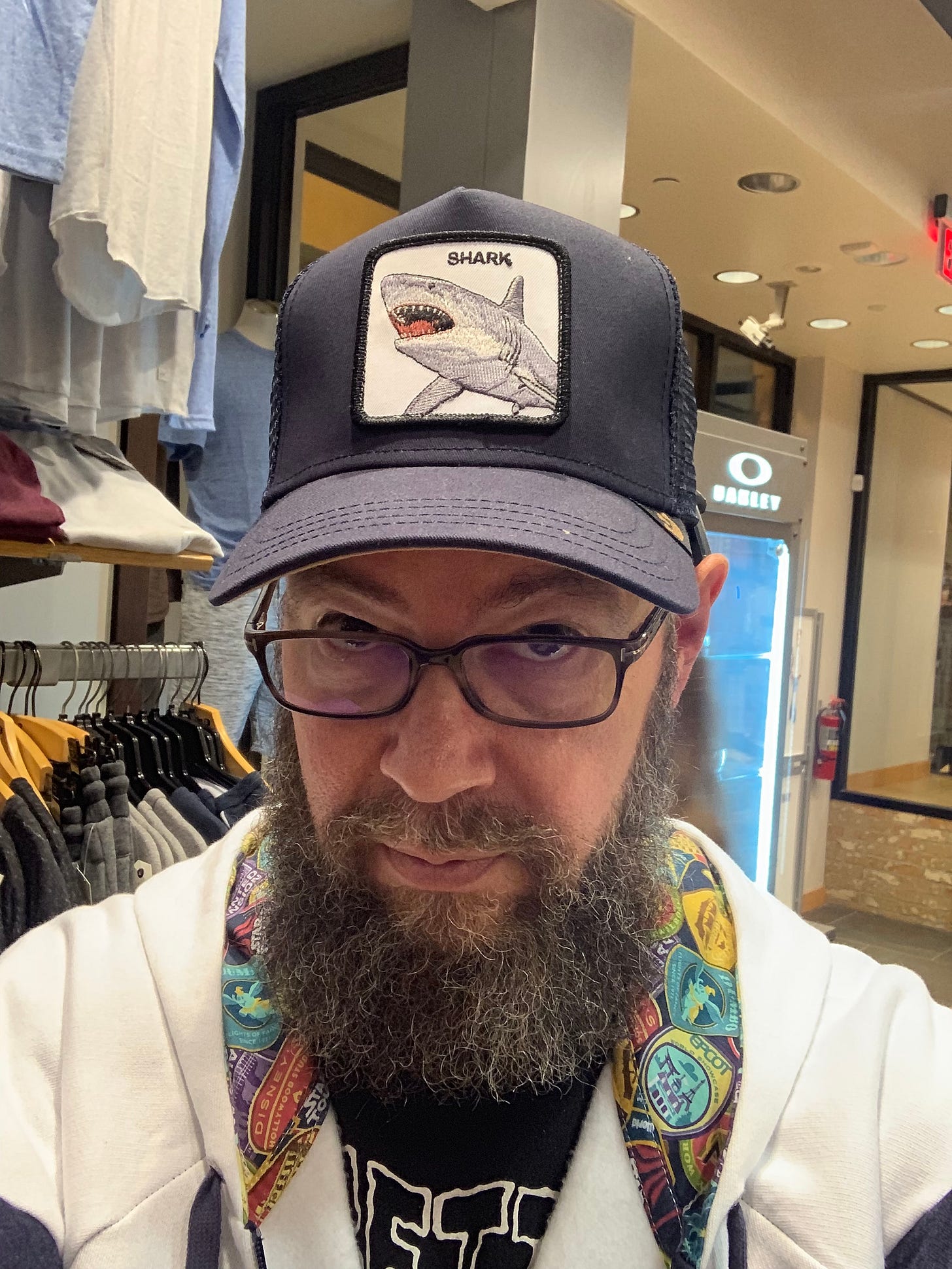 See ya next time when I talk about working on my last issue of THOR. Which I'm gonna go do right now.
Until then. Roll Tide.
Jason Aaron
KC, October 2019